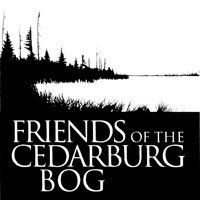 In winter of 2005, a steering committee was formed, made up of people who wanted to create an organization whose mission is to help protect and promote the health of the Cedarburg Bog ecosystem and to increase public understanding of the Bog.
Six purposes were identified:

research and monitoring,
land preservation,
management,
public education,
recreation '(consistent with the Bog's status as a State Natural Area), and
attracting both the volunteers and the funds that will allow us to accomplish these goals.
Nine months later, after the legalities of writing bylaws, setting up a board establishing non-profit status and giving the Bog's neighbors a ' "heads-up," The Friends of
Cedarburg Bog held a membership drive.
The Board is a diverse group un1ted m the goal of wanting our great grandchildren to enjoy an unspoiled Cedarburg Bog.
The Cedarburg Bog is the most intact large bog in southeastern Wisconsin and composed of a mosaic of vegetation types. Located in southeastern Wisconsin, the natural area was once part of a large glacial lake, the bog is a relict community - a southern example of the type more commonly found in northern Wisconsin. There are six lakes remaining within the bog, all with varying sizes and depths.
The Friends of the Cedarburg Bog, working with the UWM Field Station, organize volunteer work days for projects at the Cedarburg Bog. The Friends' have also relied on volunteers to replace the boardwalk in the Cedarburg Bog. The Friends' maintain a volunteer email list,
please sign up using our volunteer form
.
In March, 2015, the Friends of Cedarburg Bog received a grant of nearly $200,000 by the Environmental Protection Agency to control buckthorn in the Cedarburg Bog. The federal grant resulted form the planning efforts of board members, Dr. James Reinartz and Bruce Ross, who donated scores of hours to put together a grant proposal the EPA found competitive amongst nearly 40 other applicants.
The Friends of Cedarburg Bog conduct educational programs and hikes for the general public. Walks and open houses examine topics such as Winter Ecology, Bird Identification, and Spring Flora of the Cedarburg Bog. Click
here
for a current listing of events. Register online for one of our events
here
.
Membership Benefits include:
Newsletter with natural history highlights and information on issues affecting the Cedarburg Bog
Invitations to guided walks, workshops, special programs, events and volunteer opportunities
The opportunity to protect this special place.
*====================
Sources: Web Site:
http://bogfriends.org/
Friends of Bog Newsletters:
http://bogfriends.org/bog-haunters-archive
Wisconsin DNR Web Site:
http://dnr.wi.gov/topic/Lands/naturalareas/index.asp?SNA=2