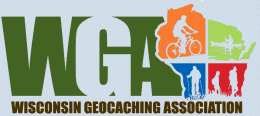 The growing popularity of geocaching — an outdoor recreational activity in which the participants use a Global Positioning System receiver or mobile device to look for hidden containers called geocaches — has led to the placement of new "official" caches at nearly 50 Wisconsin state park properties.
The Wisconsin State Park Geocaches Series is a joint project by the Wisconsin Geocaching Association and Wisconsin Department of Natural Resources to encourage outdoor activity, exploration and enjoyment of state park properties in all parts of Wisconsin, according to Sherry Wise, chief naturalist for the Wisconsin State Parks program.
"Over the last 12 years, geocaching has become a great way to explore the outdoors using technology," Wise said. "Families enjoy the time being together and the thrill of using GPS technology adds to the excitement."
Currently, there are 2 million geocaches and more than 6 million geocachers worldwide, according to Chris Walker, WGA president.
"With little startup cost, geocaching has become the perfect mix of technology and old school exploration," Walker said. "You can get started with a smartphone or handheld GPS device."
The Wisconsin State Park Geocaches Series consists of one geocache in each of 47 state parks. The state park geocaches are organized by biomes, which are regions typified by specific plant and animal communities and climate patterns.
All geocaches placed on state property must be approved by the manager of that property through an application process.
For the Wisconsin State Park Geocaches Series, the Wisconsin Geocaching Association worked with the property managers or naturalists to select locations for the geocaches that highlight unique or important natural features of the property.
To participate in the Wisconsin State Park Geocaches Series, people need to join the Wisconsin Geocaching Association, which Walker emphasizes, is free and can be done online through the association website.
Once a member, people can visit the WGA website and click on the link for Wisconsin State Park series. From there participants find a code they use with their GPS device to find coordinates for the geocache along with some additional hints for finding the cache.
People can then visit the park and use their GPS device to guide them to the coordinates and the hints to try and find the hidden cache.
Once they find it, they can add their name to a log stored inside the cache and return it to its hiding spot.
WGA has produced a number of posters for the parks that park managers will post in appropriate locations to alert people that a geocache can be found within the park.
"We hope this is yet another activity that will not only bring visitors to our state park properties, but will get them out to explore areas of the park that they otherwise may never see," Wise said.
For more information visit the Wisconsin Geocaching Association website at www.wi-geocaching.com or search the DNR website dnr.wi.gov for keywords "geocache" and "parks."