Zipping, Zapping, Zooming BATS*
by
Ann Earle,Henry Cole (Illustrator)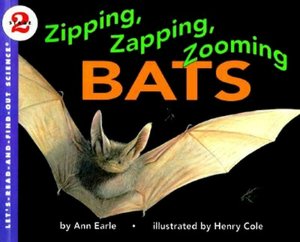 Read to Lead
Bats, the only flying mammals, are fascinating, gentle creatures. Their nightly meal of 3000 insects (equivalent to a 60-pound child consuming 125 peanut-butter-and-jelly sandwiches) helps rid the planet of insects that eat us as well as the crops we depend on. Bats not only dine heartily, but they are one of the only animals that use their tails to eat. We learn how incredible bats' ears are-they can hear the sound of a cricket walking-and how they use echolocation to navigate through darkness. We also learn how humans destroy bat's homes by cutting down forests and closing off attics. The Bat Facts section is filled with fascinating tidbits, like Thailand's Hog-Nosed Bat, the size of a bumblebee, is the world's smallest mammal, while Flying Foxes are enormous bats with wingspans six feet across. Also included in the book are instructions for building a backyard bat house
The Read to Lead Book for the third week in March is Yellowstone State Park's pick.
Read to Lead Program.
T
he Wisconsin State Park System is teaming up with the Read to Lead program to encourage kids and
families to read everywhere—including in the outdoors! Kids, if you are 5 to 9 years old and read 20 or more books, you can enter your name in a drawing for a Kindle Fire and other prizes.
Here's what you need to do.
Print out the Read to Lead checklist.
Visit the state parks listed to find the books, or check them out anytime from a library. Some State Parks will have special programs to go along with their book. Visit Wisconsin State Parks to learn more about the parks and events.

Read (or have someone read to you) 20 or more books. Check them off on the list.

Have your parent or guardian sign and send the form to the address on the checklist and you will be entered in the drawing for a Kindle Fire.
*ISBN-13:

9780064451338

Publisher:

HarperCollins Publishers

Publication date:

3/28/1995

Edition number:

1

Pages:

32

Sales rank:

241,761

Age range:

5 - 9 Years